RECALL DEFENSE PROGRAM
YOUR TRUSTED "ASSURANCE" PROVIDER
Much like the peace of mind that comes from health and home insurance, the Recall Defense System adds a layer of assurance to your processes that you are minimizing the risk of foreign object contamination to further reduce the chances of recall. Additionally, food processing facilities must keep their plants running to efficiently maximize production and meet quotas. And that's exactly how the Recall Defense Program adds value to operations. Food processors can incorporate LPS® products into existing HACCP plans to protect equipment and avoid product recalls, costly downtime, and damaged reputations.
The program includes:
A full assessment of your current MRO chemical products performed by our technically trained sales representatives.
A consolidation plan to:

Eliminate duplicate inventory
Reduce health and safety issues
Simplify purchase orders
Make selection easier
Remove user confusion
Eliminate vendors
Save space

Our top-performing food production products that come with:

Permanently printed labels that cannot tear and contaminate food
Preprinted GREEN labeling to ensure maintenance employees use and store MRO chemicals in the proper locations
NSF ratings to avoid confusion regarding areas of use within a facility
DETEX® technology - our pantented metal and x-ray detectable packaging to reduce the risk of undetected foreign object contamination

PREVENTION WITH DETECTION
DETEX® Technology helps reduce the risk of foreign object contamination which can result in recalled product, facility downtime, delayed customer deliveries, and compromised brand reputation.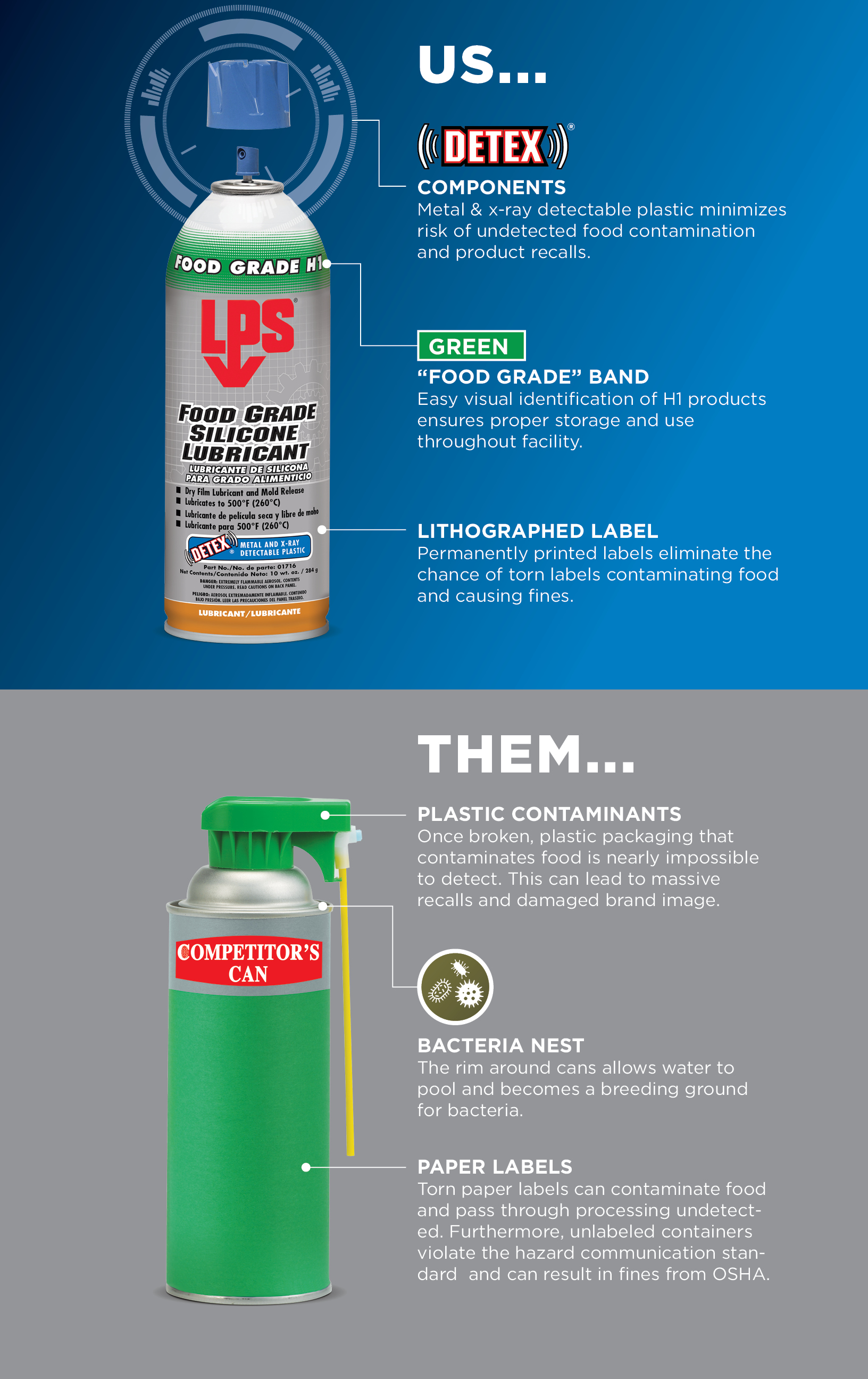 LEARN MORE ABOUT DETEX®
NSF-REGISTERED PRODUCTS TO SUPPORT COMPLIANCE
THROUGHOUT YOUR ENTIRE FACILITY