Pump Spray Lube Manually-Applied Lubricants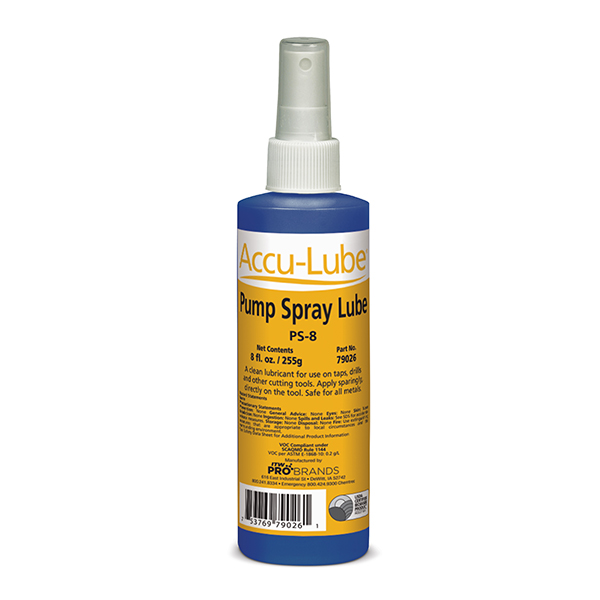 Accu-Lube® Pump Spray Lubricant puts our industry leading LB-2000 MQL lubricant in a conveniently sized spray bottle.
Safe, non-toxic, non-allergenic, and biodegradeable.  Pump Spray Lube is ideal for short-run machining operations and for sawing, drilling, tapping, etc. operations in the shop and out in the field.
Suitable for all types of materials, including aluminum, ferrous & non-ferrous metals, and titanium.
FEATURES
Vegetable-based, biodegradable liquid lubricant
For ferrous & nonferrous metals, aluminum and titanium
Convenient pump spray bottle for mess-free lubrication, good size for field and shop use
Moderate to Heavy-duty machining, sawing, and cutting
Cleans up easily before heat treat with soap and water
APPLICATIONS
General machining, sawing, and cutting operations
Short-run processes
Drilling
Tapping
Milling
Packaging Details
| Part No. US | Net Contents | Container Type | Units/Case | Approximate Case Weight | Shelf Life |
| --- | --- | --- | --- | --- | --- |
| 79026 | 8 fl oz | pump spray bottle | 16 | 10 lbs | 3 years |
Search for discontinued products in the SDS Finder
Properties
| | |
| --- | --- |
| Appearance / Physical State | Liquid |
| Odor | Mild |
| Melting / Freezing Point | No data available |
| Boiling Point / Range | >400°F/>204°C |
| Vapor Pressure | <1 mmHg |
| Partition Coefficient | No data available |
| Percent volatile | No data available |
| Flammability | No data available |
| Propellant | N/A |
| VOC Content | 0.2 g/L |
| Color | Blue |
| Flash Point | >400°F/>204°C |
| Density | No data available |
| Evaporation Rate | No data available |
| Vapor density | >1 |
| Auto-Ignition Temperature | No data available |
| Viscosity | No data available |
| Specific Gravity | 0.92 |
| Temperature Range | No data available |
| 4-Ball Weld Load | No data available |