SS-405L Semi-Synthetic Metalworking Fluid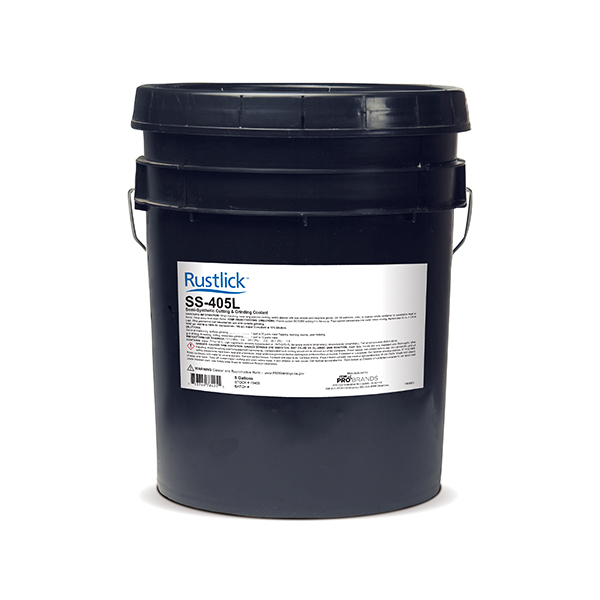 Rustlick SS-405L is a quality moderate-duty semi-synthetic metalworking fluid. It is low maintenance and provides thin oily-film corrosion protection for work pieces and machines.

FEATURES
Moderate-duty, semi-synthetic fluid for metalworking
General-purpose machining and grinding coolant
Resistant to bacterial and fungal growth
APPLICATIONS
Moderate-duty operations
General machining, grinding
High volume/high pressure coolant systems
MATERIALS
Ferrous metals
Aluminum
Brass, Bronze, and Copper
Limited use on Stainless Steel.
Limited use on Titanium.
Packaging Details
| Part No. US | Net Contents | Container Type | Units/Case | Approximate Case Weight | Shelf Life |
| --- | --- | --- | --- | --- | --- |
| 78405 | 5 gal | pail | 1 | 44 lbs | 1 year |
| 78410 | 55 gal | drum | 1 | 485 lbs | 1 year |
Search for discontinued products in the SDS Finder
Properties
Appearance / Physical State
Golden Yellow, Brown
Specific Gravity
1.02
Vapor Density
> 1
pH Value
9.6
Flash Point
>200°F (93°C)
Boiling Point / Range
215°F (100°C)
Active sulfur content
None
Total chlorine
None
Density
8.4 lbs/gal (1005 kg/m3)
Dilution Ratio
General Machining & Surface Grinding: 20:1
Tapping, Reaming, Sawing, Gear Hobbing, Gun Drilling, Threading, Milling, Centerless Grinding: 10:1
Water Solubility
Soluble in water
Refractometer Readings
10:1=4.8
20:1=2.4
30:1=1.6