G-1066D Synthetic Grinding Coolant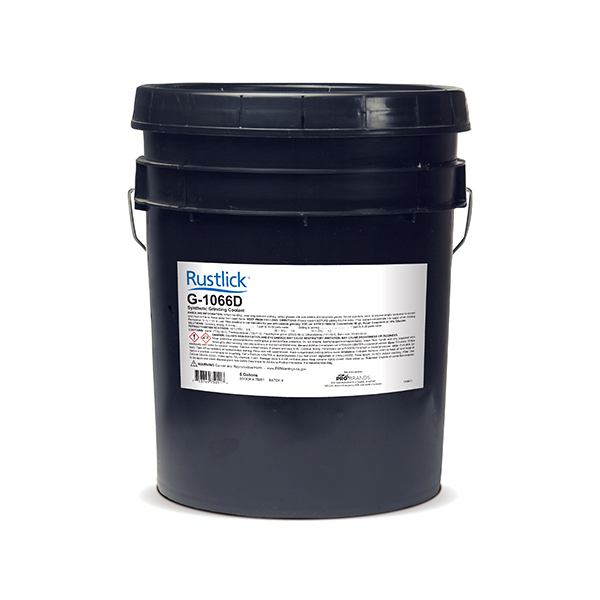 Rustlick™ G-1066D is a premium synthetic metalworking fluid formulated specifically for diamond wheel grinding. It provides outstanding cooling, rapid fines settling, and exceptional wetting with dry-film corrosion protection for work pieces and machines. Transparent solution keeps wheels free and gives great visibility.

FEATURES
Residual dry-film corrosion protection
Specifically designed for grinding and cutting of non-metallics (including semi-conductor wafers)
Biodegradeable
Keeps wheels clean for free cutting
APPLICATIONS
Diamond Wheel Grinding
Cutting; Slice-off sawing
MATERIALS
Ferrous Metals
Titanium
Not recommended for Aluminum.
Not recommended for Brass, Bronze, and Copper.
Packaging Details
| Part No. US | Net Contents | Container Type | Units/Case | Approximate Case Weight | Shelf Life |
| --- | --- | --- | --- | --- | --- |
| 75551 | 55 gal | drum | 1 | 511 lbs | 1 year |
| 75051 | 5 gal | pail | 1 | 47 lbs | 1 year |
Search for discontinued products in the SDS Finder
Properties
Appearance / Physical State
Yellow/Orange
Specific Gravity
1.07
Vapor Density
> 1
pH Value
9.9
Flash Point
> 200°F (93°C)
Boiling Point / Range
212°F (100°C)
Active sulfur content
None
Total chlorine
None
Density
8.8 lbs/gal (1053 kg/m3)
Dilution Ratio
Grinding, Slicing, Dicing: 15:1 to 30:1
Drilling & Sawing: 5:1 to 20:1
Water Solubility
Soluble in water