G-25B Synthetic Grinding Fluid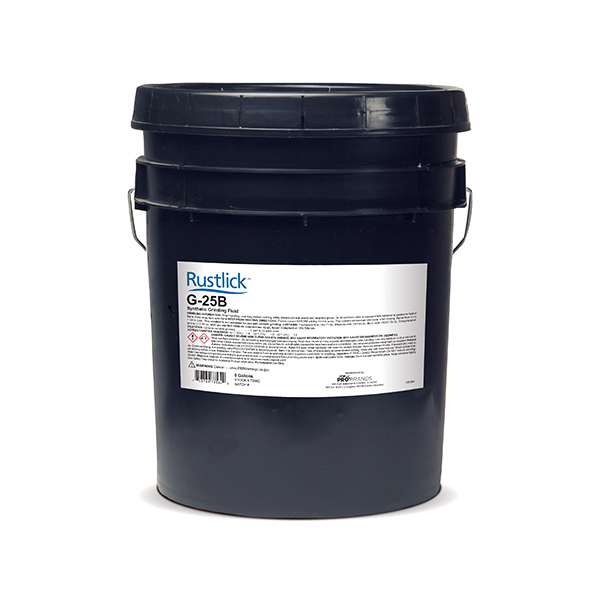 With an extremely attractive per-gallon cost, Rustlick™ G-25B is our most economical Rustlick™ grinding fluid. It is compatible with brass, bronze and ferrous metals, making it suitable for Blanchard grinding.
Rustlick™ G-25B provides excellent corrosion protection and is ideal for use in machines with brass magnetic rings.

FEATURES
Great heat dissipation
Prevents in-process rusting
Economical grinding fluid
Ideal for use in machines with brass magnetic rings
APPLICATIONS
Blanchard Grinding
General Grinding
SPECIFICATIONS
1 year from the date of manufacture
Call Technical Sales for detailed questions pertaining to the products
None Available
Product/Applicator Trouble Shooting
Shelf Life Information
Specific Testing Data
Use a refractmeter to measure coolant concentration
Use Triadine 20 or Grotan for microbial control in sump tanks
MATERIALS
Ferrous Metals
Titanium
Brass, Bronze, and Copper.
Not recommended for Aluminum.
Packaging Details
| Part No. US | Net Contents | Container Type | Units/Case | Approximate Case Weight | Shelf Life |
| --- | --- | --- | --- | --- | --- |
| 73562 | 5 gallon | Pail | 1 | 47 lbs. | 1 year |
| 73563 | 55 gallon | Drum | 1 | 496 lbs. | 1 year |
Search for discontinued products in the SDS Finder
Properties
Appearance / Physical State
Yellow Orange
Specific Gravity
1.04
Vapor Density
> 1
pH Value
9.7
Flash Point
200°F (93°C)
Boiling Point / Range
212°F (100°C)
Active sulfur content
None
Total chlorine
None
Density
8.7 lbs/gal (1041 kg/m3)
Dilution Ratio
General grinding 25:1
Water Solubility
Soluble in water
Refractometer Readings
10:1 = 2.0
20:1 = 1.0
30:1 = 0.6