PowerSaw Synthetic Cutting & Grinding Fluid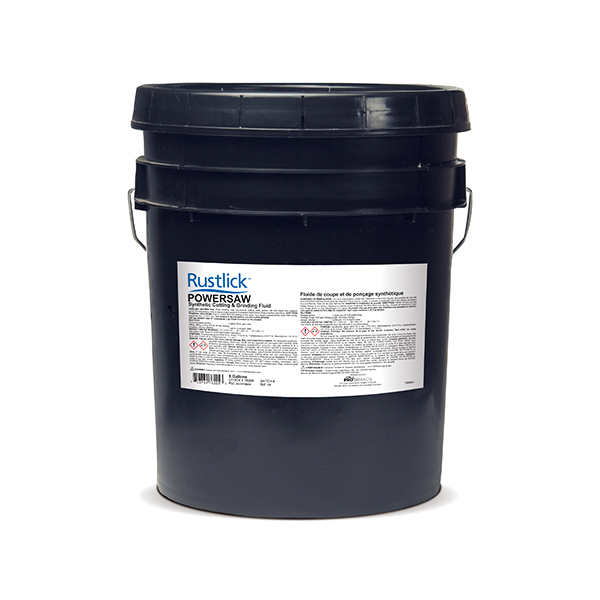 PowerSaw Synthetic Cutting & Grinding Fluid is a quality moderate to heavy-duty synthetic metalworking fluid with non-chlorinated extreme pressure additives formulated specifically to meet the needs of sawing operations. 
FEATURES
Moderate to heavy-duty synthetic cutting fluid with non-chlorinated EP additives
Biodegradeable
High lubricity, high rust protction, and low foaming
Good tramp oil rejection
Exceptional biostability provides long-term sump life when properly maintained
APPLICATIONS
Moderate to Heavy-duty operations
Band and circular sawing, machining, grinding
MATERIALS
Ferrous Metals
Limited use on Titanium.
Not recommended for Aluminum.
Not recommended for Brass, Bronze, and Copper.
Packaging Details
| Part No. US | Net Contents | Container Type | Units/Case | Approximate Case Weight | Shelf Life |
| --- | --- | --- | --- | --- | --- |
| 76205 | 5 gal | pail | 1 | 48 lbs | 1 year |
| 76255 | 55 gal | drum | 1 | 526 lbs | 1 year |
Search for discontinued products in the SDS Finder
Properties
Appearance / Physical State
Dark Blue
Specific Gravity
1.06
Vapor Density
> 1
pH Value
9
Flash Point
>200°F (93°C)
Boiling Point / Range
212°F (100°C)
Active sulfur content
None
Total chlorine
None
Density
8.9 lbs/gal (1063 kg/m3)
Dilution Ratio
Band, circular, and general sawing: 20:1
Machining and grinding: 10:1 to 20:1
Water Solubility
Soluble in water
Refractometer Readings
10:1 = 3.5
20:1 = 1.8
30:1 = 1.0