SN-100A Synthetic Cutting & Grinding Coolant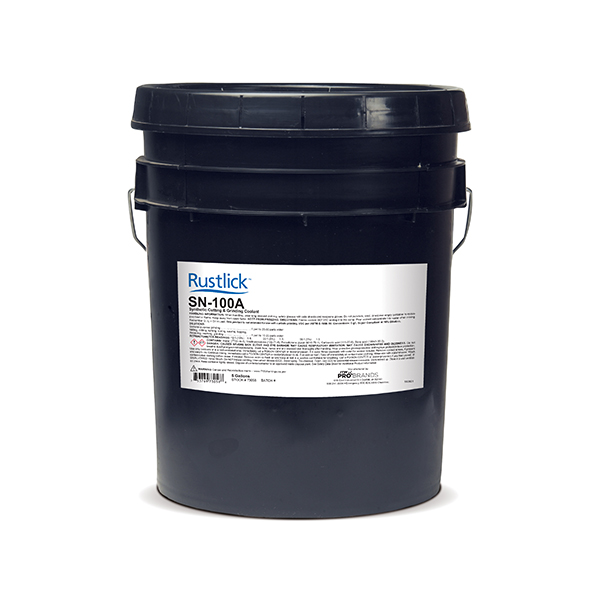 Rustlick™ SN-100A is the economical, semi-synthetic coolant for light to moderate-duty applications.

FEATURES
Moderate to heavy-duty synthetic cutting fluid with non-chlorinated EP additives
Biodegradeable
High lubricity, high rust protction, and low foaming
APPLICATIONS
Moderate to Heavy-duty operations
Machining, cutting, and sawing
Works well in grinding operations
SPECIFICATIONS
1 year from the date of manufacture
Call Technical Sales for detailed questions pertaining to the products
None Available
Product/Applicator Trouble Shooting
Shelf Life Information
Specific Testing Data
Use a refractmeter to measure coolant concentration
Use Triadine 20 or Grotan for microbial control in sump tanks
MATERIALS
Ferrous Metals
Limited use on Titanium.
Not recommended for Aluminum.
Not recommended for Brass, Bronze, and Copper.
Packaging Details
| Part No. US | Net Contents | Container Type | Units/Case | Approximate Case Weight | Shelf Life |
| --- | --- | --- | --- | --- | --- |
| 73058 | 5 gallons | Pail | 1 | 47 lbs. | 1 year |
| 73558 | 55 gallons | Drum | 1 | 521 lbs. | 1 year |
Search for discontinued products in the SDS Finder
Properties
Appearance / Physical State
Dark Blue
Specific Gravity
1.05
Vapor Density
> 1
pH Value
9.0
Flash Point
>200°F (93°C)
Boiling Point / Range
212°F (100°C)
Active sulfur content
None
Total chlorine
None
Density
8.8 lbs/gal (1053 kg/m3)
Dilution Ratio
Machining: 20:1 to 30:1
Milling, Drilling, Turning, Boring, Sawing, Tapping, Threading, Reaming, Grinding: 10:1 to 20:1
Water Solubility
Soluble in water
Refractometer Readings
10:1 = 4.0
20:1 = 2.4
30:1 = 1.3